Warning: Spoiler Alert!
Hey guys – one thing I absolutely must discuss with you, something that has truly captivated my attention over the past year, Mad Men. AMC (2016) describes Mad Men as being" set in 1960s New York, the sexy, stylized and provocative AMC drama Mad Men follows the lives of the ruthlessly competitive men and women of Madison Avenue advertising, an ego-driven world where key players make an art of the sell" but that is not all.
(Shhh, over here! This post is entirely my writing and my opinion, I have not been paid or given any incentives to write this post. I genuinely love Mad Men. Feel free to comment otherwise!)
This on-of-a-kind, in depth examination of advertising agencies not only sparked a fire in our hearts, the show has won the Emmy for Outstanding Drama Series for the past four years; in addition, the show was created by Emmy and Golden Globe winner Mathew Weiner (2016). All in all, the show not only contains incredible content to our standards, it has proved, time after time, it's worth as one of the top dramas for consecutive years.
I recently finished the entire series of Mad Men thanks to Netflix (Amen to that). I highly recommend all of you either a) re-watch the series b) watch the series or c) continue to watch the series until you know every character and plot twist and turn. It is a truly ever growing series, each time you watch an episode you learn something new or notice something different.
Man Men is truly wonderful (and revolting) show due to many influential factors. First, is the multiple and ever-changing dynamics between characters. Not only do the men and women take on a substantial amount of girlfriends, boyfriends, mistresses, husbands and wives; in addition, the character's relationships within the office, as colleagues and as friends, is constantly ever changing. This is the kind of example that needs to be seen to be understood:
Ya, I bet you weren't expecting that!
In addition, the characters are always relatable. Whether you're a womanizer like Don, a smart-ass like Sterling, or a creative like Peggy, there's a character for you!
Even the Betty Drapers of the world: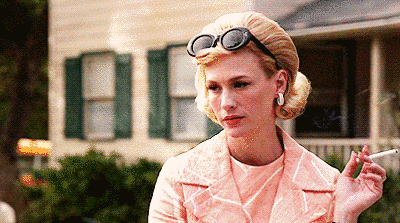 AMC
Man Men is based on an advertising agency. I love this theme as, in today's society, we all know at least a little about advertising. Moreover, Sterling Cooper Draper Pryce (one of the agencies many names), has several advertising campaigns that we can all relate to such as Coca-Cola, Hersheys, Volvo, Jaguar, Heinz, Life cereal, various cigarette companies and many more.
http://designtaxi.com/news/356875/Mad-Men-Ads-VS-Real-Ads-From-the-60s/
Mad Men is based on the 50's, 60's and 70's eras, which many watchers can find nostalgic. I personally have heard individuals who watch Mad Men say "I remember when we would drink at work," "I remember that style of clothing," emphasize on how times have changed or the woman's role in that era. For others, such as myself, this era is intriguing and informative. I find it genuinely interesting to see the day in the life of an individual from the 60's. It's portrayed in a difficult, yet entertaining manner.
AMC
Adding on to the emphasis on the Y generation's (that's me) intrigue with history, there has become a new trend  where old fashioned or dated ideas and trends are considered new again. Andrea Cheng from InStyle reports on how 70's fashion is now making a comeback (Instyle.com).
HARRY DEMPSTER/EXPRESS/GETTY IMAGES; MVC PHOTOGRAPHY
In addition, Jessica Festa comments on the generations new obsession with old fashioned drinks, and I don't just mean the old fashioned! The Martini, Mint Julep, Sidecar and Manhattan are all seeing a comeback (Gadling 2012).
https://s-media-cache-ak0.pinimg.com/236x/1a/64/fe/1a64fe593ef3efe05f46af1773416a72.jpg
The best part of Man Men, as if you haven't heard enough, is most definitely the humour. Mad Men is witty, quick and the humour is relatable and not too sarcastic. Some of the humour is dark but the majority of it has to do with drinking, colleagues, clothing and other everyday discussions.
As a student in Marketing and Advertising, I am completely entranced by this show! Mad Men is a perfect depiction of the inner workings of an advertising agency from the bottom up. No only do we have the opportunities about secretaries and copywriters, we get to see the creative department, management and some floating jobs, that we all know are essential, but do not get recognition. My favourite portrayal of this is Joan Holloway. Joan began at Sterling Cooper as a secretary. She then rose to managing all of the secretaries. As the show goes on, we learn Joan is the pinnacle of an affair with Roger Sterling, not only her boss, but quiet possibly someone she loves. Eventually, Joan gets married to a Doctor, has a baby, gets divorced and then makes her way to partner (although through some sketchy behaviours) where she can focus on her true talents. She is a true example of a dedicated, hard working, focused, strong woman, whom is not only admired by all, is respected by all. Here's a little on our Joanie:
Pageantry is another element of Mad Men that I so admire. The persona men and women embody in that era to portray the perfect picture is extraordinary. As a woman in today's society I know I would not be able to  curl my hair, do my makeup and pick the perfect, unwrinkled outfit before going to work. I cannot fathom how women used to do all those things. In addition, all men were different as well. All being strong, confident, alcoholics, probably slightly racist and sexist. All men I know show women a significant amount more respect, in addition, not all men drink as they portrayed in Mad Men and are not as rude or cold. Furthermore, all problems between man and wife were swept under the rug. No one talked about issues or resolutions, it was simply not proper. It is incredible the pageantry that happened in the 60's and how different the world is today.
This is why I so enjoy the parenting in Mad Men…As ridiculous as it is humorous:
I strongly believe, anyone who works (or who doesn't) should watch Mad Men. In any department. It uncovers your true feelings about situations and strengthens those beliefs. Watching Mad Men has helped me stand up for myself at work, when normally I would roll over. By taking in shows such as Mad Men, we not only learn about the characters, we learn about ourselves. By watching Mad Men we can fall into a world of our own.
P.S. If you're looking for more awesome Mad Men moments, this article had me giggling the whole way through:
References:
"About." AMC. Web. 30 May 2016.
"Are Classic Cocktails Making A Comeback In The United States? – Gadling."Gadling. 2012. Web. 30 May 2016
Cheng, Andrea. "Then and Now: These Sexy '70s Trends Are Making a Comeback." InStyle.com. Web. 30 May 2016.